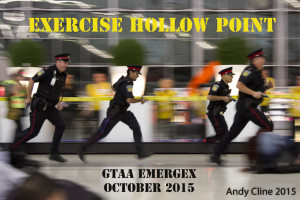 EXERCISE HOLLOW POiNT
Story and photos by Andrew H. Cline
A series of rapid fire gunshots rang out in Toronto Pearson International Airport's Terminal 1 check in area, and passengers and airline staff dove for cover. A man with a hand gun who had been mingling with check in lines had shot off several clips in the midst of passengers in the queue, wounding or killing about 10 people. Peel Regional Police on patrol in the Terminal quickly responded and pursued the suspect, who ran deeper into the terminal building towards the security check in area. As police closed in on the suspect, he committed suicide by turned his gun on himself before he was apprehended. These were the opening moments of the Greater Toronto Airports Authority's latest major annual emergency exercise on October 6 2015.
"The aim of the exercise is to provide a challenge to GTAA functional groups and external stakeholders to respond to an act of unlawful interference with civil aviation in accordance with existing plans, procedures and protocols. This is done in order to prepare individuals and agencies for a real world event, improve performances and responses, and to test plans and procedures in order to identify shortfalls." according to the GTAA.
A year's worth of planning went into the exercise, led by GTAA Exercise Director Carlos Geraldes and Coordinator Amanda Meehan, the architects for the exercise together with a planning committee of representatives from the various departments and agencies involved. Every major airport in Canada is federally mandated to hold a major emergency or security exercise each year. Magnitudes vary depending on the year, one year is a tabletop size, followed by the same scenario the following year as a full scale exercise. These exercises alternate annually between an emergency exercise such as a crash scenario and a security exercise such as a terrorist attack. The exercises are made as realistic as possible while still safely maintaining normal airport operations. The events often take place late at night for this reason, usually at an isolated area of the terminal or airfield to help prevent upsetting or interfering with passengers and airport staff not involved in the exercise. In this case screening was erected to obscure the exercise area from sight and ample signage and numerous PA announcements alerted passengers and airport staff alike in Terminal 1 that an exercise was under way throughout the duration of event. Due to time constraints, the exercise was limited to the response phase, and did not include the recovery phase.
About 100 volunteers gathered at the GTAA Fire & Emergency Services Training Institute (FESTI) and briefings commenced at 21:00. A number of volunteers were assigned special roles, and were segregated from the rest of the volunteers, arriving early to accommodate having casualty makeup applied to replicate wounded victims. A St. John Ambulance team provided very realistic casualty simulation makeup application (CASSIM) to those volunteers who were designated as gunshot victims. These volunteers were briefed on their scripted parts as victims, some of them were tasked with acting panicked and shocked, some screaming, and running around hysterically after the shooting. Most of the other volunteers were simply briefed to act as they normally would while waiting for a flight at the airport and asked to respond as they normally would to the scenario as it unfolded. This included the use of social media, which the GTAA media department monitors and briefs everyone ahead of time to stipulate clearly that it is only an exercise by using the social media hastag: #YYZEmergEx . "Exercise! Exercise! Exercise!" was heard on GTAA, company and emergency services radio calls at the beginning of each transmission in order to avoid confusion and reaction to a real incident instead of the simulation.
The volunteers as well as the observers and controllers were bussed from FESTI to Terminal 1 prior to the start of the exercise. They gathered in the international check in area of Terminal 1. Volunteers were asked to bring their own carry on bags, and additional empty luggage was provided by GTAA to augment the exercise. Personnel from Copa Airlines and Emirates simulated 'European Airlines' flight 002 to Brussels and 'Bright Star Airways' flight number BS001 to Dubai for the flights that the passengers were checking in for.
The exercise commenced with the shooting curb side of a Commissionaire when he challenged an assailant who then abandoned his vehicle and fled into into Terminal 1. He then mingled with passengers in the check in lines. The active shooter then unleashing his weapon on the unsuspecting passengers in the queue. Everyone in the crowd immediately dropped to the ground, or took refuge with the airline employees behind the check in counters. Peel Regional Police on terminal foot patrol quickly responded and pursued the active shooter, who killed himself before he could be apprehended. The Peel Regional Police tactical team arrived and methodically secured the area, establishing a perimeter around the scene. Police then started providing first aid to the most seriously injured, and reassuring victims that help was on the way, before fire and medical personnel arrived. The first Peel Regional paramedics commenced triage of victims as soon as they arrived, prioritizing urgency of treatment. Each injured victim had a triage tag filled out and attached to them, categorizing them for immediate or delayed treatment and transportation. Police and fire personnel helped with the triage by moving ambulatory patients and uninjured people to areas away from the seriously injured, this helped expedite the casualty evacuation. Immediate treatment was provided prior to being made ready for transport by ambulance, and loaded aboard by paramedic teams. Once aboard the ambulances, they were hooked up to monitors for the best simulation value possible. Ambulatory and uninjured passengers were kept in concentrated areas for processing and interrogation by officials in order to get as much information about the incident as possible.
Evaluators from GTAA, FESTI, Peel Regional Police other police, fire and paramedic agencies and airlines all oversaw the exercise, as did observers from numerous other airlines and organizations. The entire event was filmed by multiple cameras, still and video, for training purposes. A large debrief was held at FESTI after the exercise for the participants, controllers, evaluators and observers in order to give feedback on all aspects of the exercise from various perspectives. The resulting input became part of the full after action report. Volunteers were given a nice souvenir satchel with an EXERCISE HOLLOW POINT logo and an Emirates sports cushion as well as refreshments and snacks by GTAA after the event as thanks for their participation.
Six YYZ Airport Watch members volunteered for the event, each taking on different roles as passengers. They included Andrew Cline, John Griffith, Rob Jones, Ken Mist, Ron Stanley and Aleksandar Vlasevski. This was not an official Airport Watch event, but a general announcement goes out to group members to help fill the vital volunteer positions. Many members of the Toronto Pearson Welcome Team volunteer program also participated as passengers.
EXERCISE HOLLOW POINT was deemed a big success. Lessons learned are applied to help streamline inter-agency interaction and procedures in the event that a similar situation was to transpire for real. The participating agencies use the exercise as a tool to coordinate their responses to emergency situations of this nature. The numerous observers took away a lot of valuable information for their own organizations to maximize the learning benefits of this major exercise.